23 March 2020 | Post by Kingston Active | in Aquatics
Swim School SwimWork Series
During the closure at Waves Leisure Centre & the cancellation of swimming lessons, the Swim School team will be bringing to you a series of activities to do at home to keep your mind on the important skills of swimming & water safety, so you are ready to get straight back into lessons when we start up again!
Please not all supervision policies must be followed when completing these activities:
- Children under the age of 5 must be constantly supervised and within arms reach of an adult at all times
- Children under the age of 10 must be actively supervised and within eye sight at all times
Part 19: Minions Water Safety Activity Sheets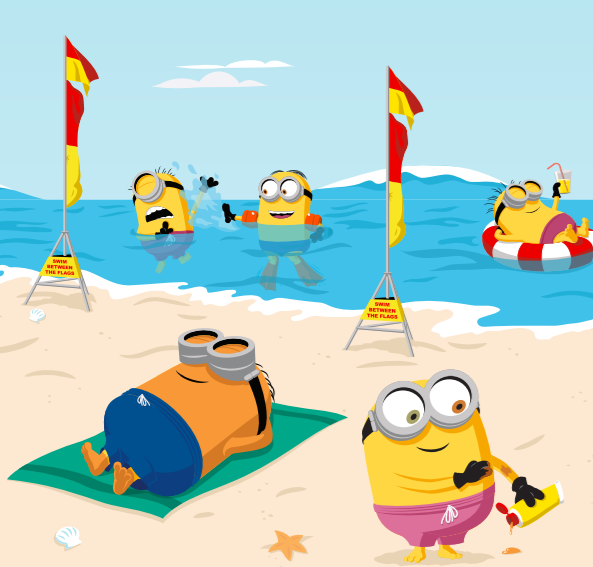 The Minions have headed to the beach for the day! It is your job to keep them safe and make sure they are following all the right water safety rules! Can you show the Minions how to stay safe at the beach?
Minions Water Safety Activity Sheet 1
Minions Water Safety Activity Sheet 2
Part 18: Sink or Swim
Watch along and learn with Life Saving Victoria's Sink or Swim online program. Learn about what to do and not to do when you are around the water - you can be an everyday lifesaver this summer!
https://www.youtube.com/watch?v=gnUYMNFGZsc&ab_channel=LifeSavingVic
Part 17: Water Safety Brain Breaks
Taek a break from your day and watch the Brain Break videos from our friends at Life Saving Victoria. Learn about the most important safety rules to make sure we can swim in pools, beaches, rivers and lakes safely this summer!
You can see all the Brain Break videos here
Part 16: First Aid for Kids at Home
This one-off program is designed to give children the knowledge and skills to help if they found someone in an emergency and work through a range of different first aid scenario's. This is a school and family-friendly program, which how to treat bleeds, breaks and burns.
What you will need:
1. Laptop or Device
2. Paper and Pencils
3. A Teddy Bear or Family Member / Friend
4. Empty Drink Bottle
5. Book or Magazine
6. Bandage i.e. Scarf, Tie, Tea Towel, Long Sleeve Top
For further information visit www.lsv.com.au/watersafetyathome.
Part 15: Water Safety Quiz
Test your knowledge of water safety signs, rules and rescues through this fun activity workbook!
Part 14: CPR for Kids Online
Join Sheila from Life Saving Victoria in her 30 minute CPR lesson for kids. This online, one-off program is designed to give children the knowledge and skills to help if they found someone in an emergency. This is a family-friendly program, which has been created to bring your household together to learn lifesaving skills.
Part 14: Standing Pool Noodle Game
Check out this great game - all you need is a bit of space and some spare pool noodles (or even broomsticks)! Have a go and let us know how you did - we would love to see some photos or videos! You can send them to us on Facebook
Part 13: You be the Teacher!
In this activity, we want you to dress up your favourite toy in their best swimming costume & run a mini swimming lesson for them. Can you take photos of yourself teaching them how to kick, blow bubbles, float on their back or call for help? We would love to see your photos on our Facebook page!
Part 12: Sandbox Fun
Grab a tub (ike a shell pool or even a large tupperware container) and fill it with sand. We are going to experiment and make different aquatic areas. Try make the following environments in your sandpit by pouring water into where the water should go:
- River
- Lake
- Beach
- Dam
Maybe you could even build a lake that feeds a river and travels all the way to the ocean! You can even add little branches as trees or toy people & boats to make it look real! Have a think about the different dangers that might be around our different waterways
Part 11: Water Safety Watch and Learn
Tune in every Monday to our website or Facebook to see the latest Water Safety Watch and Learn video from Life Saving Victoria. Check them out below:
Episode 6: Rock Pool Ramble
Episode 5: Ranbow River
Episode 4: At the River
Episode 3: At the Lake
Episode 2: At the Beach
Episode 1: At Home
Check out the full LSV Water Safety @ Home timetable here: https://lsv.com.au/education/watersafetyathome/
Part 10: Making Your Home Pool Safe!
As the weather is now starting to cool down, now is the perfect time to get your home pool area safe for next summer. Complete this checklist with your kids, and talk them through the importance of having a safe pool at home:
- Why do we need a fence around the pool?
- Why does the gate need to be locked?
- Why should there be nothing you can climb on around the fence?
- Do we ever go to the pool area without an adult?
Find the full checklist from Royal Life Saving Society Australia here: https://www.royallifesaving.com.au/__data/assets/pdf_file/0015/4641/HomePool_A4Checklist2009_LR.pdf
If you are completing this with children, they must be supervised at all times. Do not complete the chemicals, electricity, emergency or pool pump checklist sections with children.
Part 9: Sink/Float Experiment
Fill a cup, bathtub or bucket with water and pick things around the house to see what floats and what sinks!
Could any of your objects help you float in the pool, or help you rescue someone else? Record your findings in our activity sheet here:
Part 8: At Home Water Safety Scavenger Hunt
How many of these things can you find around the home?? Take a photo and post to our Facebook https://www.facebook.com/153556188034099/posts/3006407446082278/ or email to us at waves.lts@kingston.vic.gov.au
Good Luck!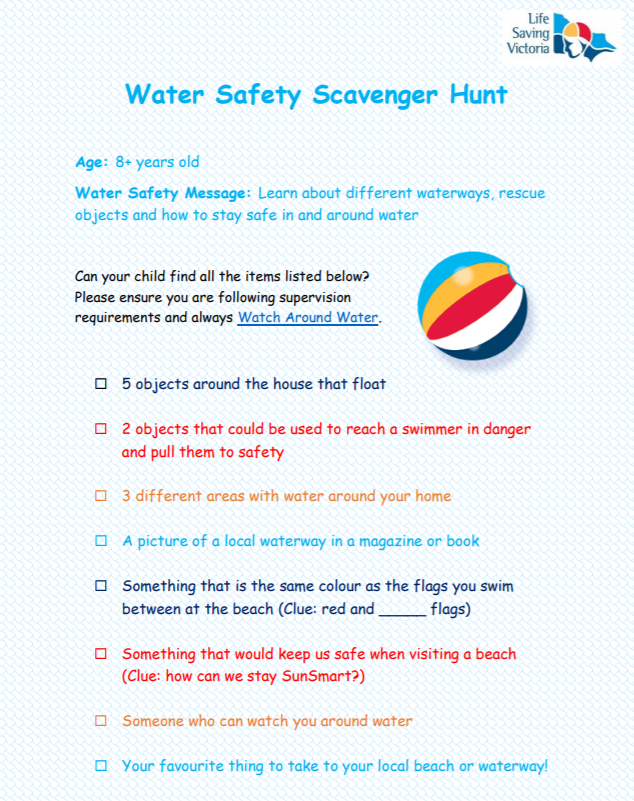 Part 7: Everyday Life Saver App
The Everyday Lifesaver App uses gamification to make learning water safety, emergency response and CPR more engaging
Download on the App Store or Google Play now!

Part 6: LSV Beach Safety Videos
Do you know how to spot and escape a rip? These videos from Life Saving Victoria are the next part of our online SwimWork resources for our Learn to Swim students.
These videos are great if you have a VR headset, otherwise also work well on a computer screen so you can have a look around the beach!
Part 5: Rescue Items at Home
Have a look around the house... What items can you find that could be used to rescue someone in danger at the pool or beach? Have a look around the house and post your answers on our Facebook page here: https://www.facebook.com/153556188034099/posts/2974885432567813/
Here is what Amanda found at Waves!
Part 4: Triple Zero Kids Challenge
Kids will learn about getting help by playing games and solving mysteries. They'll learn about safety messages and hear what happens when you call Triple Zero. Along the way they will meet the "Zeros" as they are guided step by step through the game.
Download here: http://kids.triplezero.gov.au/

Part 3: Swim and Survive Aqua Quiz
Download the Aqua Quiz from the link below and work through the water safety based questions and activities! After completing, send us a copy of your book to waves.lts@kingston.vic.gov.au for us to mark & fill out your certificate!
https://kingstonactive.com.au/files/AquaQuiz/FINALAquaQuiz_2015 (4).pdf
Part 2: Search and Find Activity Sheet
Can you find everything in this seach and find sheet form our friends at Life Saving Victoria? Send your results through to us at waves.lts@kingston.vic.gov.au and we will send your results to your teachers!
https://lsv.com.au/toolkit/pdf/Search-and-Find-Actitiy-Sheet.pdf
Part 1: Something Eerie App
Royal Life Saving Australia has unveiled a new app to teach vital water safety skills to kids, called 'Something Eerie'. The fun and educational app is aimed at children aged 8-12 years

Something Eerie follows a group of five friends who live in the town of Eerie Creek, and the adventures they get up to.
Meet the Eerie Creek characters:
Hamish is a positive and upbeat person and has lots of energy (as well as a cool haircut) – but he's also very clumsy! He really wants to fit in with his group of friends, but will this prevent him from speaking up in a dangerous situation?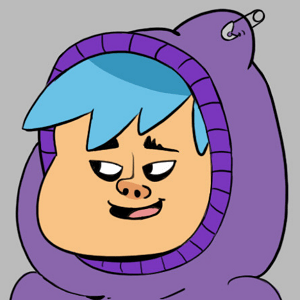 Jasper loves a good mystery and is into all things supernatural. There are plenty of myths surrounding the town of Eerie Creek and Jasper would be the first to tell you they're all true! He's the biggest danger to himself though, being obsessed with his appearance can get him into trouble in certain situations.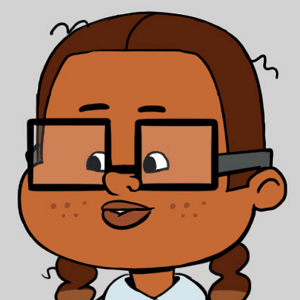 Sasha is the smartest of the group and the most responsible. She looks out for her friends and will often remind them about the consequences of their actions. Sasha does have lapses in her judgement, however, which could lead her to make poor decisions!
Mooch doesn't go anywhere without Max, his pet guinea pig. Mooch is a lovable character but can be a bit silly and make thoughtless decisions at times. His friends need to be careful that his reckless behaviour doesn't put them all in danger…
Ruby has recently moved to Eerie Creek and has found something in the attic of her new house, sparking her quest to solve the mystery! Can Ruby and her new friends keep out of trouble in their adventures?
Download the app and find out! Available through the Apple Store and Google Play .